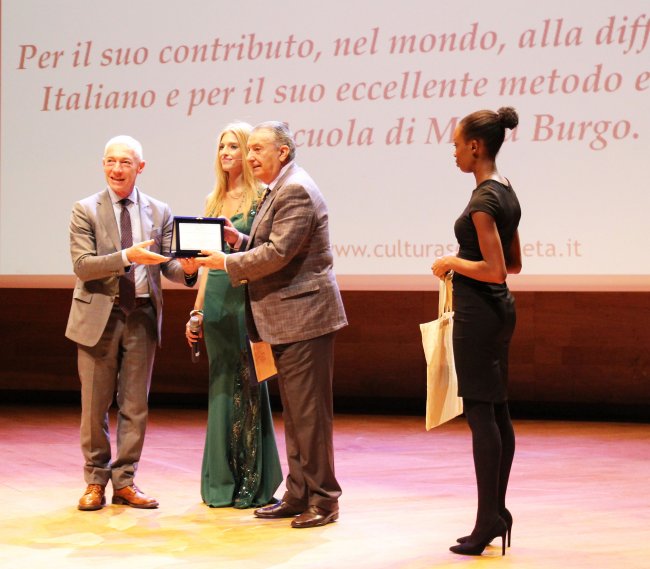 THE DIRECTOR FERNANDO BURGO AWARDED WITH THE "STELLA AL MERITO SOCIALE 2018"
"Stelle al Merito Sociale" are awards promoted by the Non-profit association "Cultura & Solidarietà", a non-profit organization that supports and disseminates every expression of culture and solidarity.
The appointment of October 22, 2018 at the Teatro dal Verme in Milan saw among the winners of the tenth edition, the Director Fernando Burgo, founder in 1961 of Istituto Di Moda Burgo.
"Stella al Merito Sociale" is a prize established to enhance and give visibility to those people, businesses, institutions and associations that daily offer irreplaceable social contributions on the territories and between people.
The event of October 22nd began at 8.00 pm and was presented by the actress Guenda Goria who introduced the winners to the presence of the President of the association Francesco Vivacqua and the General Manager Nadia Mazzon.
Along with Director Fernando Burgo, other characters from different sectors were awarded: Mariagrazia Andriani, Federica Angeli, Franco Arminio, Mauro Balata, Beppe Baresi,Roberto Biscardini,Jo Champa,Evelina Christillin,Comune di Maratea,Marco dall'Olio, Rosa Clara de Bernardi Manduzio, Mohamed M. Abou El Enein, Mariella Enoc, Giulio Gallera, Zahi Hawass, Alma Manera, Angelo Marra, Giancarlo Mazzuca, Luisa Piscitelli, Teresa Scafuto, Bruno Serato, Giusy Versace.