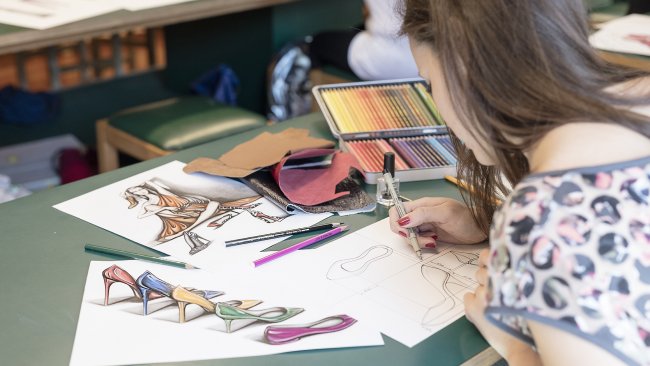 Shoes and Footwear Design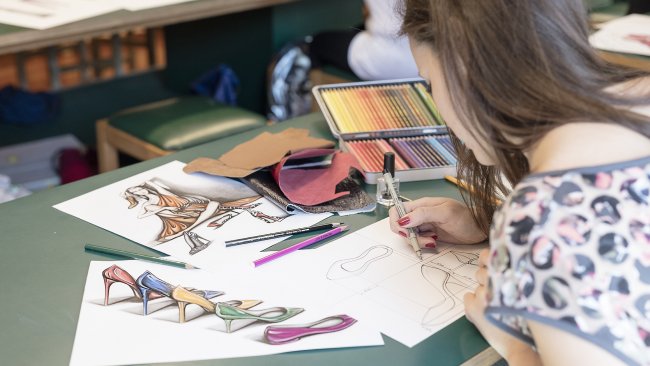 Since the course is aimed to prepare Shoes Designers, we consider extremely important to provide our students with rudimental notions of anatomy and with the knowledge of the different kinds of materials.
ABOUT COURSE
The target of the course is to allow our students to have their own footwear design Portfolio, fundamental for a competitive presentation to the Fashion working reality . To gain a deep knowledge in the field of the planning of Lines and Shape, our students will receive a starting background above fundamental themes such as: classical, sportive, elegant and vanguard styles and later on they will be focused on Shoe Fashion new trends (high-heel footwear, short-heel shoes, stiletto shoes etc), on the materials used (leather, chamois-leather, crocodile leather, etc), on the patterns of footwear (boot, décolté, sabot, sandal, big nailed boot). Thanks to our teachers' high level of specialisation and experience on field, we are able to solve any doubt and perplexity of our students as aspirant designers. 
PROGRAM
Fashion Design
Anatomical Basis
Foot Morphology
Colour Theory
Rendering Techniques
Technical Drawing
Graphical Drawing
Quick Sketching
Collection – Portfolio
Styles and Trends
Illustration
Style and Couplings
Shoes' planning
Line, Shape & Colours
Skins and fabrics
Alternative materials
Sociology & Marketing
Product's placement
DOWNLOAD PDF
REQUEST INFO
Duration
Total hours: 330Lesson duration: 3 hours
Schedule examples:Duration: 7 months – Weekly lessons: 4Duration: 6 months – Weekly lessons: 5 Duration: 4 months – Weekly lessons: 7Duration: 3 months – Weekly lessons: 10
Fees and Funding
Please contact us for more information about Fees and Funding.
How to Apply
If you wish to enroll please request your application form. Once your application has been accepted we will reserve your place for your chosen date for up to 30 days. At the same time you will be required to provide identity documentation and to pay a registration fee. If your application is denied, we will notify you of the reason for denial or we will simply offer you the option of a different start date for your course. Upon receiving the required documents, we will send you the certificate of enrollment and an invoice.
Apply Online