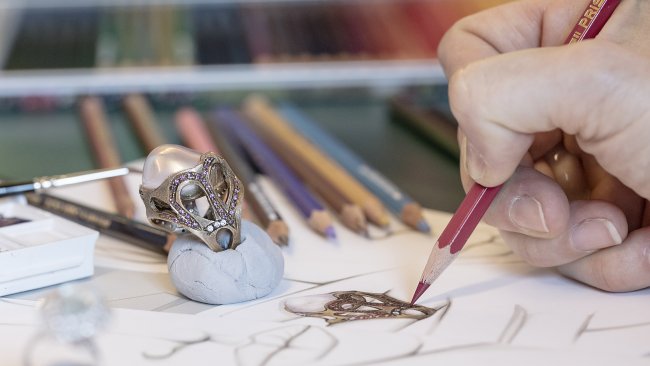 Jewelry Design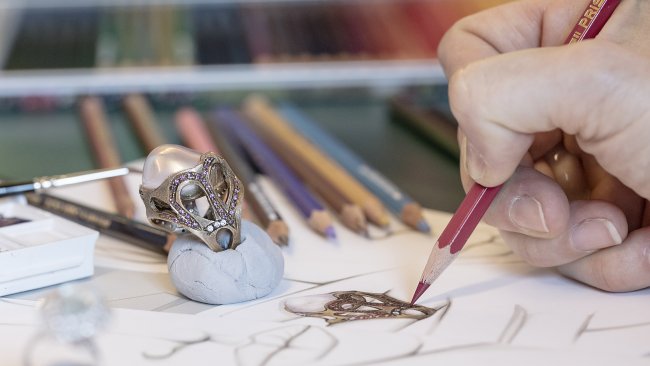 In a world in continuous evolution, it is extremely important being constantly up-to-date. Since nowadays Jewelry Designer and Professionals on field are increased in importance. 
ABOUT COURSE
Our jewelry course has been scheduled in response to the great demand coming from Fashion World. The designer jewelry course gives our students the instruments to learn the most important techniques of drawing jewels: pantone, tempera, pastels, pencils, eco lines ,technical draw and orthogonal projection. Those techniques are supplemented by an introductive anatomical study on face and hands. Moreover, the students will be introduced to a deep study around the costume jewelry, symbolism of jewels and to a more commercial and technical knowledge regarding the quality of precious and semi-precious stones and metals. 
PROGRAM
Face & Hands Anatomy
Colours Theory
Jewel Design
Technical Drawing
Geometrical Drawing
Life drawing
Drawing technique
Creativeness
Illustration
Fashion Sketching
Decoration
Schedule of Techniques
Collection and Portfolio
Traditional Materials
Innovative Materials
Symbolism and Function
DOWNLOAD PDF
REQUEST INFO
Duration
Total hours: 330Lesson duration: 3 hours
Schedule examples:Duration: 7 months – Weekly lessons: 4Duration: 6 months – Weekly lessons: 5 Duration: 4 months – Weekly lessons: 7Duration: 3 months – Weekly lessons: 10
Fees and Funding
Please contact us for more information about Fees and Funding.
How to Apply
If you wish to enroll please request your application form. Once your application has been accepted we will reserve your place for your chosen date for up to 30 days. At the same time you will be required to provide identity documentation and to pay a registration fee. If your application is denied, we will notify you of the reason for denial or we will simply offer you the option of a different start date for your course. Upon receiving the required documents, we will send you the certificate of enrollment and an invoice.
Apply Online